Urfan Sharif Father of the 10-year-old Sara Sharif, his partner Beinash Batool, and brother Faisal Malik were arrested at London's Gatwick Airport around 7:45 pm, on suspicion of murder.
The trio had escaped the UK just hours before Sara's body was found in her home in Woking, UK. The suspected murder ignited an investigation that spanned two countries.
Here is the complete timeline of events surrounding the tragic death of 10-year-old Sara Sharif and the subsequent hunt for her family charged with murder:
August 9:
Sara's father, Urfan Sharif, along with his partner Beinash Batool, brother Faisal Malik, and his five children, travel from their family home near Woking, southern England, to Islamabad, Pakistan.
August 10:
Urfan Sharif contacted Surrey Police at around 2:50 am UK time, and officers visited the family's semi-detached home.
Sara's lifeless body is discovered, leading to the initiation of a murder investigation that triggers an international manhunt.
August 15:
A post-mortem examination fails to determine the cause of Sara's death but reveals she had suffered "multiple and extensive" injuries, likely inflicted over a prolonged period.
Sara's mother, Olga, expresses her profound grief, stating that her life will never be the same.
August 18:
Surrey Police expressed their desire to speak with Urfan Sharif, Beinash Batool, and Faisal Malik regarding Sara's death.
UK authorities engage with Pakistani counterparts to locate and question the suspects, despite the absence of a formal extradition treaty.
August 19:
Pakistani police in the eastern province of Punjab seek the arrest of Urfan Sharif, who is believed to have family ties in the city of Jhelum.
August 24:
A Pakistani court ruled against the detention of Urfan Sharif's relatives after police interrogated two of his brothers about his whereabouts.
Police claim they are close to locating the trio, following Interpol's instructions.
August 29:
A coroner's inquest begins, but the precise cause of Sara's death remains undetermined, though it is suspected to be "unnatural."
September 5:
Muhammad Sharif, Urfan Sharif's father, tells the BBC in Pakistan that he has seen his son, who maintains that Sara's death was "an accident."
September 6:
Urfan Sharif and Beinash Batool make their first public appearance, sending a video to broadcasters in which they express their willingness to cooperate with UK authorities and defend their case in court.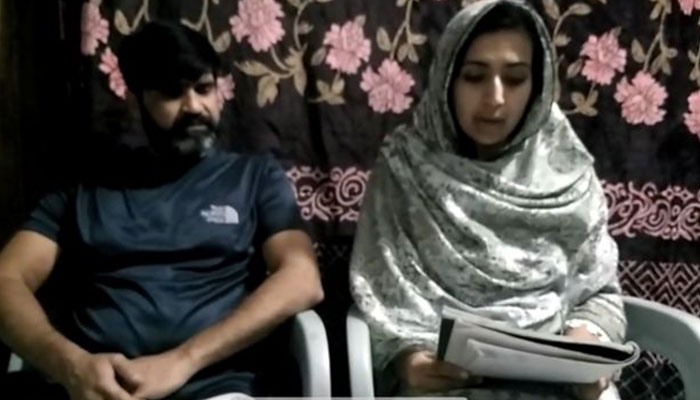 September 11:

Pakistani police raided Muhammad Sharif's home and removed Urfan Sharif's five children, relocating them to a government childcare facility in Pakistan.
September 13:
Urfan Sharif, Beinash Batool, and Faisal Malik land at London's Gatwick Airport and are promptly arrested upon disembarking from the plane, around 7:45 pm, on suspicion of murder.
September 15:
In the early hours, Surrey Police announced that state prosecutors had authorized murder charges against the trio.
They also face charges of causing or allowing the death of a child.
The three suspects appear in court in Guildford, southern England, and are remanded in custody, with their next court appearance scheduled for September 19 at London's Old Bailey court.