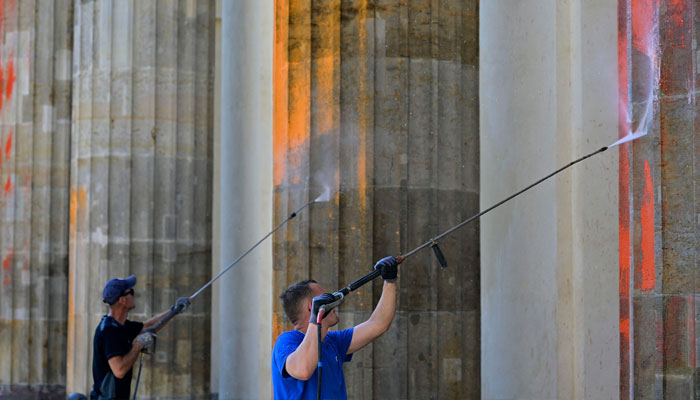 Climate activists from the group "Last Generation" delivered a powerful message in Berlin by spray-painting the historic Brandenburg Gate.
Their act of protest aimed to urgently shift away from fossil fuels and intensify efforts to combat climate change.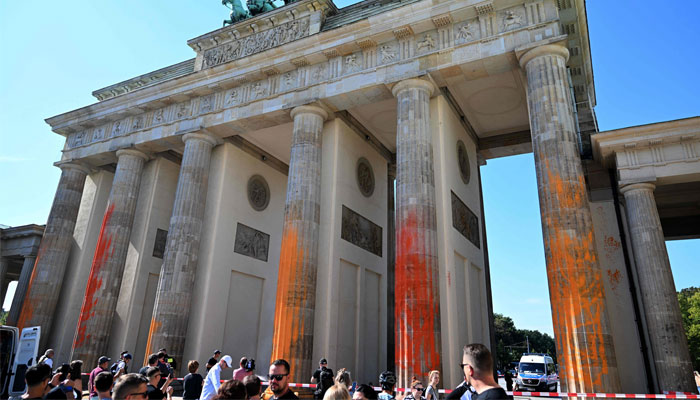 Six pillars of the iconic monument in the heart of Berlin were covered in bright orange warning paint, and the paint extended onto the Pariser Platz, the square surrounding the gate. While fourteen individuals were arrested at the scene, there were no reports of violence.
The demonstrators sought to highlight the pressing need for "political change" and a decisive move away from fossil fuels, with a call for a complete departure from petrol, gas, and coal no later than 2030. They urged German Chancellor Olaf Scholz to take a clear stance on this issue.
This protest occurs amidst mounting environmental concerns and a growing demand for more aggressive climate action in Germany. Thousands of climate activists, mainly led by young individuals, gathered in Berlin and across the country on Friday to call on Scholz's government to adopt more resolute measures to achieve Germany's climate goals.
Germany has set an ambitious target to achieve net-zero emissions by 2045, reflecting the nation's commitment to combatting climate change and transitioning to a sustainable and environmentally responsible future.