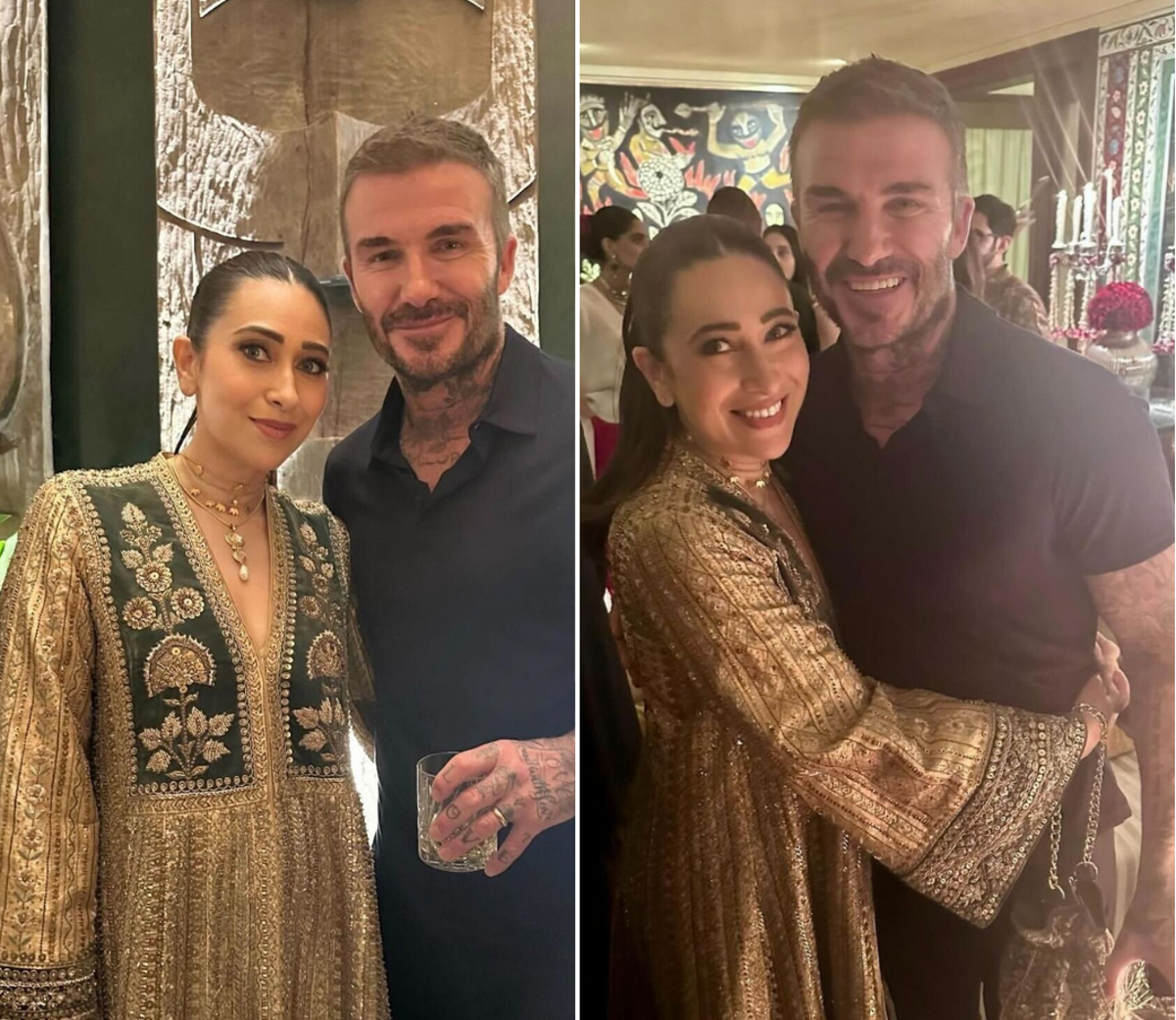 David Beckham has been spotted with Sonam Kapoor and her husband Anand Ahuja after the Bollywood stars hosted a welcome party for the footballer.
Last night, Beckham,48, made a surprise appearance at the Cricket World Cup semi-final between India and New Zealand in Mumbai.
After having spent several days in Gujurat as a Unicef ambassador, the former Manchester United star was invited to the game by the International Cricket Council (ICC), which has partnered with Unicef in a project to empower women and girls through cricket.
"What an incredible atmosphere… Thanks to @unicef and @sachintendulkar for making me so welcome at the Cricket World Cup… These fans have such amazing energy," Beckham wrote in his latest Instagram post.
Now, the star has been pictured across social media with party hosts Sonam and Anand as well as other A-list Bollywood celebrities.
Actress Karisma Kapoor, who attended the private dinner, shared photos with Beckham on Instagram.
In the photo side by side with the footballer, Karisma wrote: "Did it for the kids…Not really…" and described Beckham as "warm and gracious."
Host Anand also posted a photo on his page featuring Beckham and a few other guests. The caption read: "Just another vision of how sport brings us together! ..it was tense for a minute but @indiancricketteam clamped down and pulled through!
"Thanks @arjunkapoor for making sure we had a big TV set up showing the match during dinner just so people could sneak in and out to catch a glimpse of India's tremendous semi finals victor on the way to its fourth ODI World Cup Finals appearance!!"
Amidst the excitement, Arjun shared more snippets from the private party and said it was "a night to remember."
The post continued: "To meet someone u have admired from afar for so many years & to be able to talk face to face with him about his new life in Miami, football, India, travel, his kids, philanthropy & everything else I could squeeze into a 15 minute dinner table chat.
"Grateful to have met @davidbeckham & completely in awe of his genuine sincerity towards spending time with all of us & being kind enough to allow every fan boy/girl in that room to feel elated to get a picture & time with him… Thank You @sonamkapoor & @anandahuja for fulfilling this childhood dream of mine !!!"
Star of Fabulous Lives of Bollywood Wives, Maheep Kapoor shared several snaps from the party and said Beckham was the "cherry on the cake."
Sanjay Kapoor said the evening was "super" at "Sonam's and Anands with David , family and friends."
Setting aside the glitz and glamour, speaking on the importance of Beckham's visit to India, Unicef's representative, Cynthia McCaffrey, said it "spotlights the message on the importance of equal opportunities and rights for every child. His visit reinforces Unicef mission to support equal opportunities to empower all, especially girls."
Beckham said he has "always been a strong believer in the power of sport in levelling the playing field for children.
"Sports promotes participation, breaks down gender stereotypes and is a powerful way to help girls to realise their dreams."