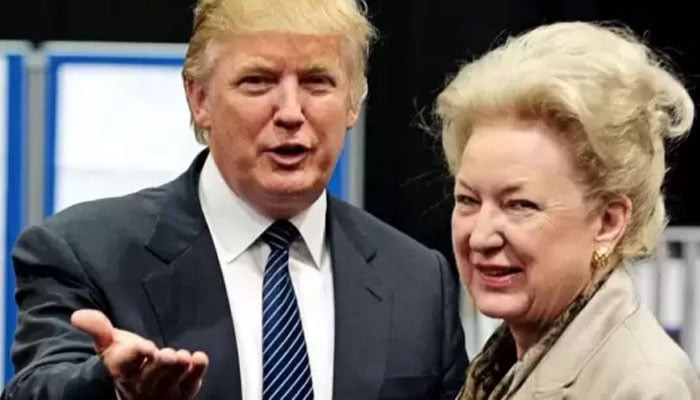 Maryanne Trump Barry, 86, the elder sister of former US President Donald Trump and a retired federal judge, was found dead in her Upper East Side apartment, according to the New York Times.
Discovered in her Fifth Avenue residence at around 4 am, she was pronounced dead at the scene.
The cause of Maryanne Trump Barry's death is yet to be determined by the Medical Examiner, with no apparent signs of trauma reported.
In 1999, Maryanne Trump Barry was nominated by President Bill Clinton to the United States Court of Appeals for the Third Circuit. While her brother, Donald Trump, assumed the presidency, she operated mostly under the radar, having previously worked as a businesswoman and in television.
Serving on the Philadelphia-based appeals court for two decades, she retired in 2019 amid a civil misconduct probe into her family's suspected tax evasion.
This inquiry, triggered by a New York Times exposé, explored whether Barry violated judicial behaviour guidelines by participating in the revealed financial irregularities. The 77-year-old former president's representative did not immediately respond to CNBC's requests for comment.
Throughout Donald Trump's life, Maryanne was one of his key advisors and closest confidants. However, their relationship turned sour in his final year in office when recordings surfaced of Barry disparaging her brother, made public by Mary Trump, Donald Trump's niece and an outspoken critic of his presidency. 
In these recordings, Barry criticised Trump for his tweeting, lying, lack of preparation, and changing stories, describing him as "cruel" with no principles.
One notable revelation from Mary Trump's book, "Too Much and Never Enough: How My Family Created The World's Most Dangerous Man," claimed that Barry disclosed Trump had someone take the SAT exam on his behalf. 
Barry, in the recording, indicated a strained relationship with her brother, stating she had not asked him for a favour since 1981, suggesting Trump attempted to take credit for her successful legal career.
Maryanne Trump Barry's life, marked by her judicial career and intricate family dynamics, adds a complex layer to the narrative surrounding the Trump family, showcasing the internal conflicts and controversies that have shaped their public image.