NEW DELHI: How much weight should a wooden table at workstations or at home, or a bed be able to bear? The Bureau of Indian Standard (BIS), which issues ISI marks and sets
quality
norms for imported and domestically produced goods, wants beds and such tables to be able to take a load of 110 kg and 60 kg respectively, on an average and pass the stability, strength and durability tests.Ditto for chairs.
Industry, however, believes that the quality control order (QCO), which applies to imported and domestically produced beds and chairs, is putting excessive burden on them as they are tough to comply with. Companies such as
IKEA
and industry bodies have sought a relook at the standards, arguing that they should be aligned with international standards. They also want a phased implementation plan, instead of rolling them out in one shot.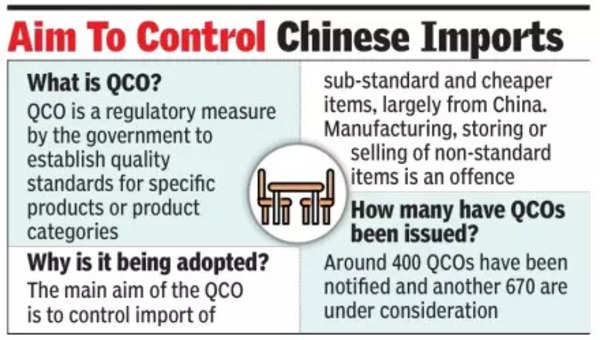 The government proposes to bring wooden furniture under QCO from 2025.
At a recent meeting convened by consumer affairs secretary Rohit Kumar Singh, BIS officials argued that user behaviour in India is different from several other parts of the world where companies like IKEA operate. People in India, for instance, climb on to a table or a bed to clean a ceiling fan, which are non-existent in many parts of Europe, for instance.
The problem is not limited to wooden furniture alone with several other industries such as footwear and toys also raising the red flag over QCOs. In certain areas such as footwear, the government has more or less stood firm, arguing that the consumers deserve good quality products, although certain exemptions, such as those for Kolhapuri chappals, have been made. Besides, micro and small industries are exempted from complying with QCOs.
The consumer affairs department and the department for promotion of industry and internal trade (DPIIT) have been at the forefront of the initiative, which is also aimed at checking the entry of cheap Chinese products that are often sub-standard, putting the safety of consumers at risk. In all, more than 300 QCOs have been issued so far – ranging from locks to fans to stainless steel cookware, pressure cookers and helmets for two wheelers.
Amid pressure from industry, BIS has defended its actions. "Our specifications (for wooden furniture) are similar to BISMA standards in the US. They have been suggested considering both the use and misuse of the products in our homes and offices. The performance-based tests have been proposed considering our conditions," argued an official.
The consumer affairs secretary has asked the BIS to find a middle path – one that does not compromise on quality and yet, does not stifle the industry. "The BIS has said it will hold more discussions with industry. Industry is equally committed to ensure the safety of users of such furniture. We are hopeful of a way out that's best for the consumers and industry," said Huzefa Samplewala, president of the Association of Manufacturers and Traders (AFMT).
IKEA confirmed participating in the meeting in the consumer affairs department. "At IKEA, we welcome India-specific quality certifications and the government's commitment of providing quality products to consumers. IKEA has stood for good quality, health and safety in the 80 years of its existence. The Indian furniture industry is diverse, widespread and largely unorganised. It is vital that the process is done with wide industry consultation and a fact-based study to ensure that the interests of all stakeholders including MSMEs, exporters and consumers are taken into consideration. It needs to ensure harmonisation with global standards in accordance with WTO norms, easy process and adequate implementation time to avoid business disruption," the company spokesperson said.