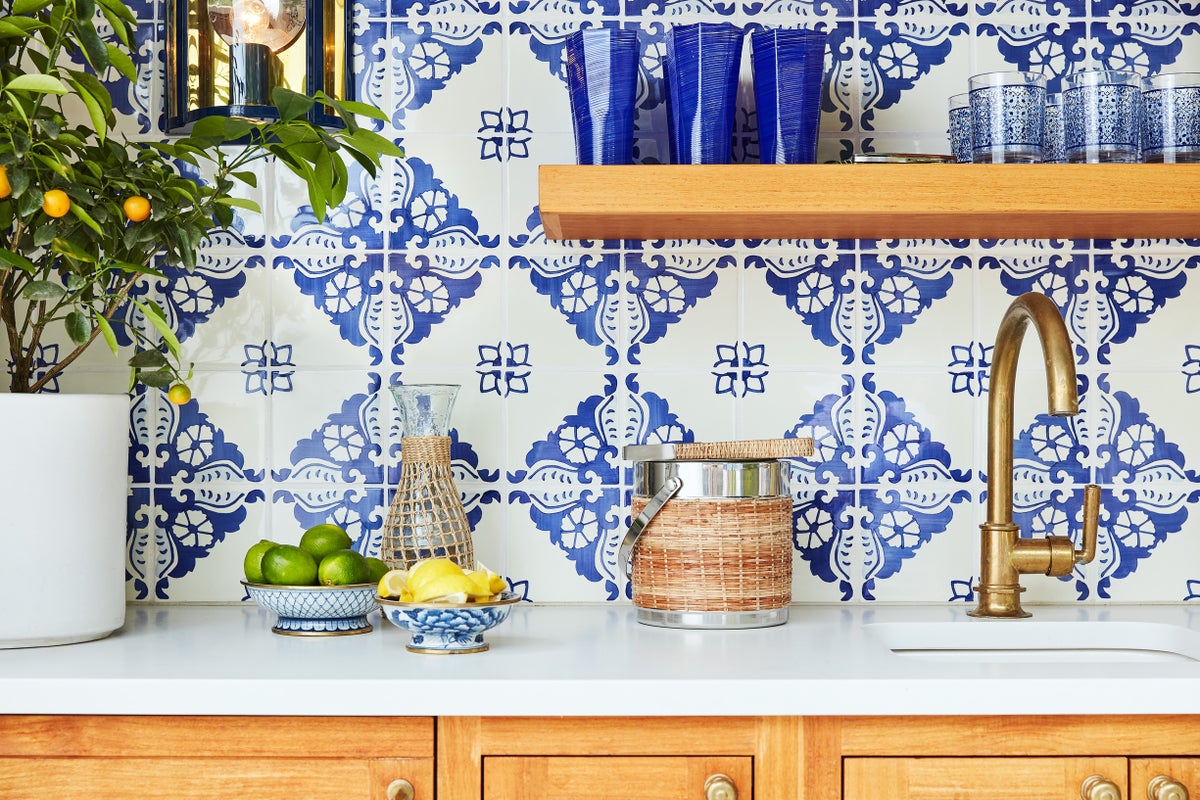 I've just touched down in dreary, soggy London – back from a heavenly getaway in sun-drenched Amalfi, staying at Hotel Santa Caterina. Nestled into a cliffside, the property is surrounded by tumbling terraced gardens, fragrant Sfusato Amalfitano lemon groves, and peerless views of the ever-sparkling Mediterranean Sea.
Its crisp, white interior is dotted with antiques and brightened by hand-painted majolica floors and patterned fabrics. A staggering glass-fronted lift transports guests down to the hotel's pièce de résistance: a seaside pool that looks straight out of a Slim Aarons photograph, where spaghetti alle vongole and St-Germain spritzes can be enjoyed on sun loungers.
Hotel Santa Caterina has a rare quality that only the very best accommodations possess, which is the feeling that by simply staying there – even without venturing beyond its grounds – you're having a complete holiday experience in and of itself. I left this picture-perfect corner of paradise feeling refreshed and wanting to bottle its warmth to help me brave the UK's imminent cold. So, this week I asked a handful of design experts for advice on how to incorporate uplifting Mediterranean style at home – just in time to stave off the winter blues.
Athina Bluff, founder of the online interior design studio Topology, tells me: "Start with a neutral base. This will help to reflect light, creating a bright and airy space. Many Mediterranean homes work with crisp white walls and then use accessories with a colourful pop."
She continues: "Choose natural materials like wood furniture and terracotta floors to add warmth and texture. And don't be afraid to mix and match patterns. The region is known for its eclectic prints, so clash your curtains with your headboard or your cushions with a rug." Molly Mahon, Linwood, and Sheridan bedding boast some beautifully bold, patterned fabric options.
British interior designer Matthew Williamson adds: "Mediterranean style doesn't need to be limited to white walls and subtle dashes of colour. You can also employ a more adventurous base palette by decorating with floral wallpaper, tasteful animal prints, and art with lush bird, butterfly, and botanical motifs." In this style, Williamson designed a private suite on the grounds of La Residencia, A Belmond Hotel in Deià, Mallorca – which offers some impressive pattern-mixing inspiration.
You can add additional panache and tactility to your space by tiling a shower or fireplace, or perhaps refreshing your kitchen splashback. Look to Portuguese tile makers Everett and Blue, whose artisans turn raw, locally sourced clay into hand-painted miniature works of art.
Luxury London-based interior designer Naomi Astley Clarke says: "I find that geometric patterns work particularly well in the bathroom. I love creating a daring 'jewel box' powder room with glossy, floor-to-ceiling patterned tiles that catch the light beautifully, creating a sense of vibrance and added space."
Martin Waller, founder of global design house Andrew Martin, recommends opting for a colour scheme that reflects the Mediterranean landscape. He says: "Decorate with aquamarine blues, citrus hues, and soft sunset pastels. These bring to mind the region's iconic beaches and vivid houses with contrasting shutters that stand next to each other like a Fauvist painting."
Recalling Amalfi's exotic plant-packed gardens, I asked Freddie Garland, founder of floral subscription service Freddie's Flowers, how to curate the look and feel of sunny landscapes within a single vase. He advises: "Tones of dusky yellow work really well and always make me smile – try a combination like little dollops of craspedia with glorious Good Times roses and whimsical yellow tulips, with a dash of Eucalyptus parvifolia bringing in some green."
Garland continues: "I also love a variety of chrysanthemum called Saffina, which are an orangey-gold shade. You can combine this with red hypericum, yellow solidago, and pink antirrhinums with silvery Eucalyptus cinerea for another uplifting and warming arrangement."
Waller concludes: "Like travel, design has the power to both transfix and transport. Your home is a backdrop to your life and so its design should reflect your personality and the things that you love, especially the places you've visited and can't wait to return to."