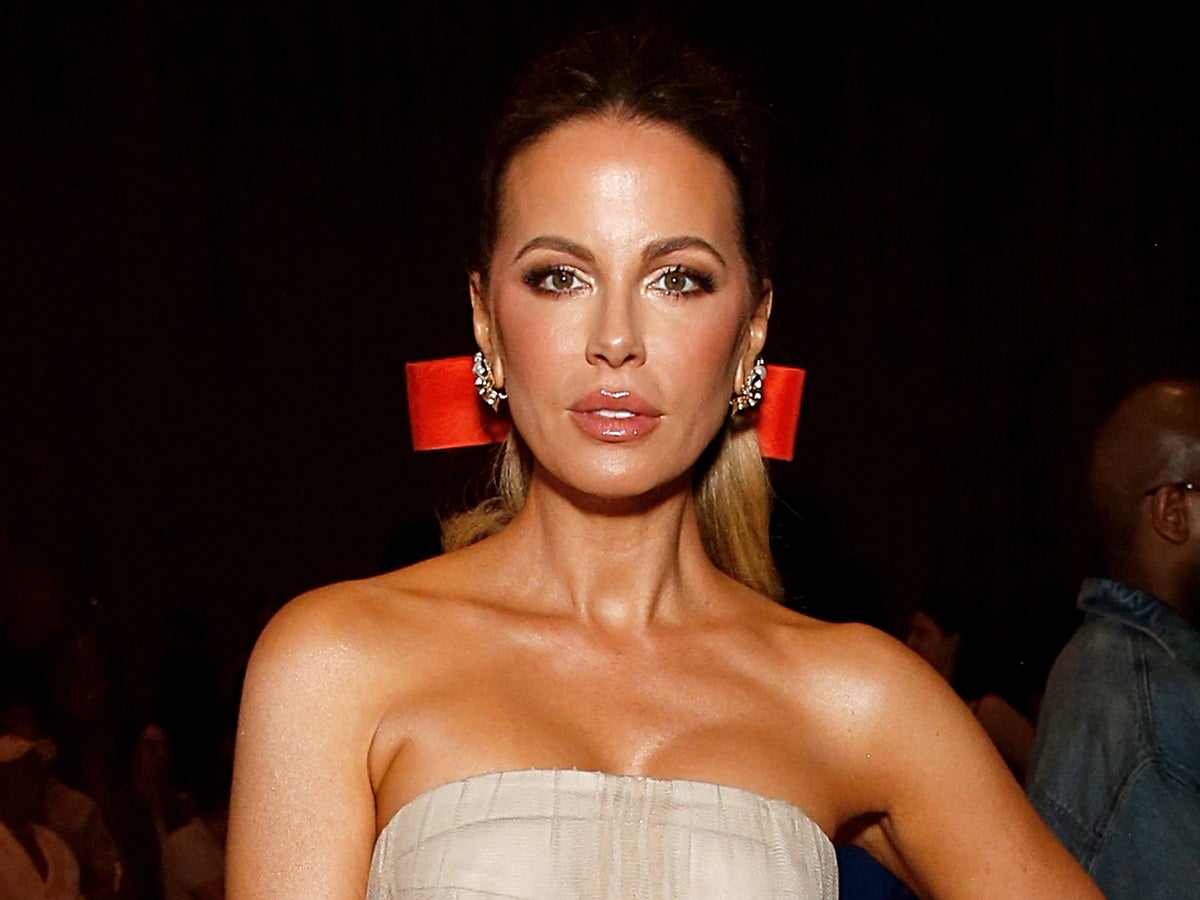 Kate Beckinsale dressed up as the 'Heart of the Ocean' necklace from Titanic, in honour of Leonardo DiCaprio's 49th birthday party.
Over the weekend on 11 November, the Underworld actor celebrated her former Aviator co-star and friend's birthday with style, donning a The Blonds minidress with a campy, supersised blue gem necklace hung around her hip and three rows of clear crystals that resemble necklace chain adorning the bodice. She accessorised the look with platform pumps, a large black hair bow, and a little black purse.
The look is a fitting nod to the movie that put DiCaprio on the map, with one person hilariously commenting on Fashion Bomb Daily's Instagram post that included Beckinsale's bejeweled look, "But I thought the old lady dropped it into the ocean in the end?" The comment referenced the coveted jewel's fate towards the end of the three-hour blockbuster.
Another person praised the look, writing: "The heart of the ocean is what I see. It's cute and unique."
Beckinsale was just one of many stars in attendance at DiCaprio's birthday bash, which included celebrities Kim Kardashian, Lady Gaga, Beyoncé, Jay-Z, Taika Waititi, Snoop Dogg, and newly engaged couple Zoë Kravitz and Channing Tatum among others. Lil Wayne reportedly performed for the VIP crowd which partied well past four o'clock in the morning, with a source telling People: "At one point everyone was singing classic hip hop."
The Oscar winner's birthday wasn't the only party where Beckinsale stunned onlookers, having recently drawn attention at a Halloween bash although not for the right reasons. The Pearl Harbor actor took a massive tumble while leaving a Halloween party at Delilah in West Hollywood. After tripping in incredibly tall red stilettos, the actor was photographed lying on the side of the road for respite.
A partygoer reportedly helped Beckinsale onto her feet and held her hand as she climbed into an SUV.
The heels in question were part of a sexy flight attendant costume consisting of a black minidress with a red lapel, sparkly thigh-high black stockings, a glittery red box purse, and a vintage pillbox hat. She paired the look with red lipstick and a sleek, Barbie-esque ponytail. In her hands, the actor hilariously held a tray with drinks and a paper bag with "passenger's vomit" written on it in black marker.
In the past, Beckinsale has been no stranger to towering heels, often sporting them in her fashionable Instagram posts and pairing them with her chic red carpet looks. From sky-high Versace platforms to bedazzled Zuhair Murad jumpsuits, the actor isn't afraid of bold statement pieces that are guaranteed to turn heads.