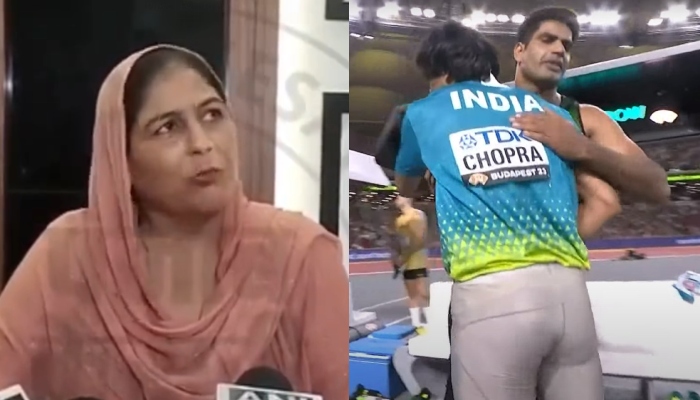 Pakistan's star javelin thrower Arshad Nadeem became the first-ever athlete to win a silver medal at the World Athletic Championships 2023 held in Budapest, Hungary while Neeraj Chopra became the first Indian to win a gold medal at the event.
However, the two countries are the world's biggest sporting rivals, be it cricket or any other game and the fans of both sides often become fierce in support of their country.
Recently, an Indian journalist tried to reduce the sportsmanship to the Pakistan-India rivalry despite Nadeem and Chopra showing mutual respect to each other.
The journalist asked Neeraj's mother, Saroj Devi, an inflammatory question. However, she schooled him by replying to his question positively, winning the hearts of the social media users.
"How big of an achievement it was for Neeraj to defeat the Pakistani?" the reporter asked, to which she replied: "There is no division of countries on the field all players are equal."
"In the field, everyone is an athlete, and someone has to win; it doesn't matter if they are from Pakistan or from Haryana," Saroj said.
She further said: "It is a matter [Neeraj's victory] of joy for me and I am happy for the Pakistani athlete as well."
Despite being fierce competitors on the field, both Neeraj and Arshad Nadeem's off-field camaraderie is exemplary.
During the Tokyo Olympics final in 2021, Neeraj jumped to his Pakistani counterpart's defence after Arshad was caught in a controversy for practicing with Neeraj's spear and accused of "tampering" with the Indian's gold medal-winning spear.
"There was nothing wrong with Arshad Nadeem using my javelin to prepare. It is within rules, and please do not use my name to push a dirty agenda," Neeraj Chopra said.
Even at the Budapest World Championships, the Indian player urged Nadeem to join him for a photo-op. Their heartwarming scenes won over social media and sent a message of unity to both countries.