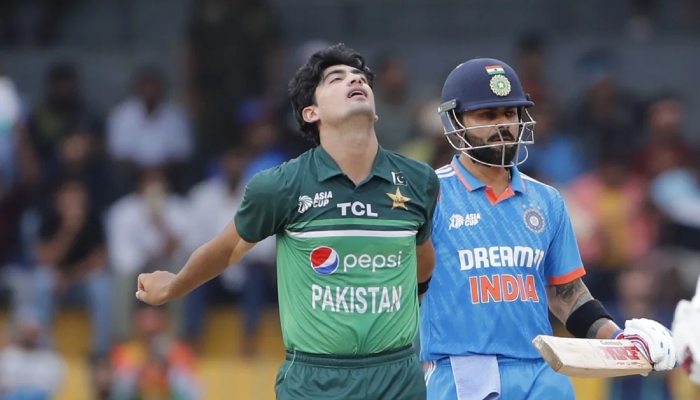 Owing to a shoulder injury, Pakistan pacer Naseem Shah could miss the entire ICC World Cup 2023, which is set to begin in India next month.
The injury to Shah's right shoulder is worse than what was initially suspected, ESPNcricinfo reported Saturday.
"Pakistan fast bowler Naseem Shah is likely to miss the entire World Cup after scans revealed an injury to his right shoulder that is worse than was initially suspected. 
"The PCB is understood to be seeking a second opinion, but scans from tests in Dubai appear to show the injury could rule him out for the rest of year," the report stated.
"Should secondary results back up the initial ones, Naseem, 20, is looking at a layoff spanning several months which means his participation in the Test series in Australia at the turn of the year is in doubt, as well as the next Pakistan Super League also in grave doubt," it added. 
In the 46th over during Pakistan's second game against India at the Asia Cup last week, Naseem walked off the field on the reserve day organised for that game. Soon after, the PCB issued a press release stating that the right-armer has been ruled out of the rest of the tournament.
Shah suffered an injury to a muscle just below his bowling shoulder and is not a recurrence of any previous shoulder injuries.
Zaman Khan, who replaced Shah during the Asia Cup, could be called up for the World Cup if needed.
The PCB is likely to make the final decision once they have results from Shah's secondary scans in a few days.
The ICC World Cup 2023 will take place in India with 10 teams fighting for the elusive title across 10 venues from October 5 to November 19, with the Narendra Modi Stadium in Ahmedabad hosting the tournament opener and the final.
The Cricket World Cup will be played in the round-robin format with all teams playing against each other for a total of 45 league matches.
The top four teams will qualify for the semifinals, which will be held in Mumbai on November 15 and in Kolkata on November 16. The semi-finals and the final will have reserve days.
According to tournament's regulations, all teams must finalise their 15-player squads prior to September 28, with any replacements after this date requiring approval from the ICC.