Russian President Vladimir Putin expressed grief over the death of Wagner boss Yevgeny Prighozin, calling him a man of "complicated fate who made serious mistakes", a day after the mercenary chief's plane crashed killing ten people including him.
During his TV address, Vladimir Putin termed the incident as a tragedy, a day after the Wagner Group boss was confirmed dead along with nine others after his Embraer aircraft crashed in the Tver region, north of Moscow. It was headed to St. Petersburg from Moscow.
He also offered condolences to the families of those killed, as the Wagner group accused him of the assassination of their boss. 
Russian President spoke for the first time Thursday since the death of the billionaire.
"I knew Prigozhin for a very long time, since the early 90s. He was a man of complicated fate, and he made serious mistakes in his life, but he achieved the right results," the 70-year-old said.
The crash took place two months after Prigozhin led a mutiny against the top leadership of Moscow, challenging the long-time authority of Putin. It failed a day later.
Russian third-time President also said the Wagner had made a "significant contribution" to Moscow's offensive in Ukraine.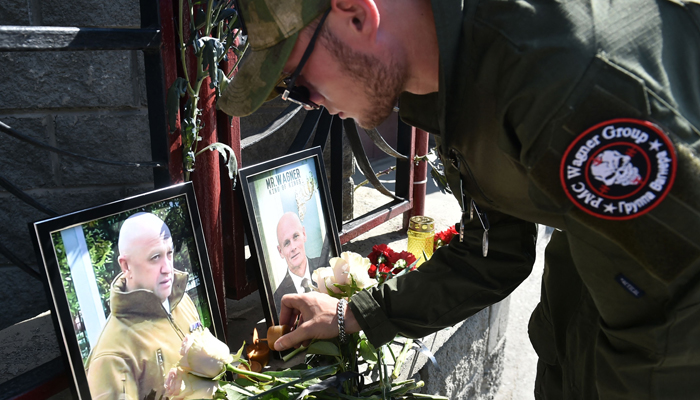 They had shared a common cause, Putin said, adding: "We remember that, we know that, and we will not forget that."
In an address to citizens during the rebellion on June 23-24, Putin had called Prigozhin a "traitor".
Authorities in Russia initiated an investigation into the matter however, there are widespread speculations about assassination.
Ukraine President Volodymyr Zelensky clarified his country's position saying Kyiv had nothing to do with it. "I think everyone knows who this concerns," he added, indicating to Putin.
Joe Biden implies Putin behind Yevgeny Prighozin death
Western leaders expressed doubts that the crash had been an accident as US President Joe Biden was of the view that "there's not much that happens in Russia that Putin's not behind."
France saw "reasonable doubts" about the crash, while Germany said it followed a pattern of "unclarified" fatalities in Russia.
German Foreign Minister Annalena Baerbock appeared to say it was suspicious that "a disgraced former confidant of Putin suddenly, literally falls from the sky two months after he attempted a mutiny".
Russia's aviation authority published the names of those on board the Embraer private jet late Wednesday.
It included Prigozhin and his right-hand man, Dmitry Utkin, a shadowy figure who managed Wagner's operations and allegedly served in Russian military intelligence.
Uncertainty since deal
Wagner offices were still operating and even recruiting in Russia after Yevgeny Prigozhin's rebellion, which saw his men take over a military headquarters in the southern city of Rostov-on-Don and march on Moscow.
In Siberia, a region from where Wagner recruited heavily, people also laid flowers at the mercenary company's office in Novosibirsk.
But in Ukraine, where Wagner fighters were known for their exceptional brutality —including extrajudicial killings of their own men — many welcomed the news of Prigozhin's death.
Prigozhin recruited tens of thousands of Russian convicts to fight in Ukraine, often thrown into the front line.
Wagner's future without — including its involvement in Africa — remained unclear.
The future had been uncertain since a deal with Belarus that ended Wagner's brief rebellion.
Under that deal, the Kremlin "guaranteed" that Prigozhin would be allowed to live in Belarus — Russia's neighbour and a Kremlin ally.