Cautioning against a return to the Old Pension Scheme (OPS), a study published by RBI has estimated the cumulative fiscal burden of implementing it at 4.5 times the outgo toward the existing National Pension System (NPS) and warned against the adverse impact on government finances.
"Short-run reduction in states' pension outgo which may be driving decisions to restore OPS would be eclipsed by the huge rise in unfunded pension liabilities in the long-run. States' reverting to OPS would be a major step backwards and can increase their fiscal stress to unsustainable levels in the medium to long-term," the study by RBI staff said.
The report comes at a time when five states — Rajasthan, Chhattisgarh, Jharkhand, Punjab and Himachal Pradesh have announced their decisions to revert to OPS for government staff.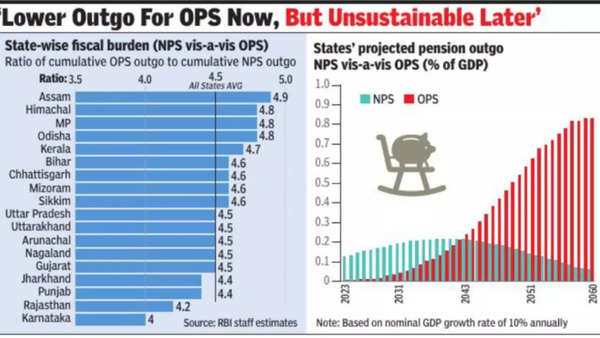 The rush to reverse the pension mechanism has prompted the Centre to set up a committee headed by finance secretary T V Somanathan, which is looking at ways to ensure that NPS remains attractive for government employees without saddling the exchequer with an unfunded liability.
According to the report, for Rajasthan, the outgo for OPS would be 4.2 times the new scheme, whereas for Chhattisgarh and Jharkhand, it would be 4.6x and 4.4x, respectively. In the case of Punjab and Himachal Pradesh, it will be 4.4x and 4.8x, respectively.
"Any reversion to OPS by states would be fiscally unsustainable, though it may result in an immediate fall in their pension outgo. At a time when most countries are moving from 'defined benefit' to 'defined contribution' plans, reverting to OPS from NPS by states will be a major step backwards — undermining the benefits of past fiscal reforms and compromising the interest of future generations," the report published in RBI's Bulletin said.
The study's findings are in line with earlier reports that said the pension burden of the states may be 4-5 times higher in OPS than in NPS. "Under different alternative scenarios, it was found that the OPS burden remains above three times the NPS burden even after varying the salary growth rate and discount rate assumptions by about 2%," the report said.
State governments can make announcements as OPS is 'a defined benefit', and the extent of pension is known to the employee in advance.
The NPS is a 'defined contribution' where the government pays a fixed amount with every salary into the fund. Upon retirement, the employee uses the corpus to purchase annuities which provide a fixed income. The return provided by the annuities, however, depends on interest rates and life expectancy at the time of the employee's retirement.