NEW DELHI: India's goods exports went up 6.3% in October, the fastest pace of expansion in nearly a year, while imports soared to a record $65 billion, rising 12.3%.
As a result, the trade deficit hit a new high of $31.4 billion, eclipsing the previous record of $30 billion in July 2022. It was only the second time this year that exports grew with revised numbers for August estimating an increase of 3.8%.
"Some of the data in the first week of November suggests that green shoots are stabilising. We are hopeful that we will cross last year's numbers. This is happening despite falling commodity prices," commerce secretary Sunil Barthwal told reporters.
Commerce secretary Sunil Barthwal, however, refused to indicate a number, arguing that exports will depend on commodity prices, exchange rate and the interest rate environment in the advanced economies, which have dampened demand.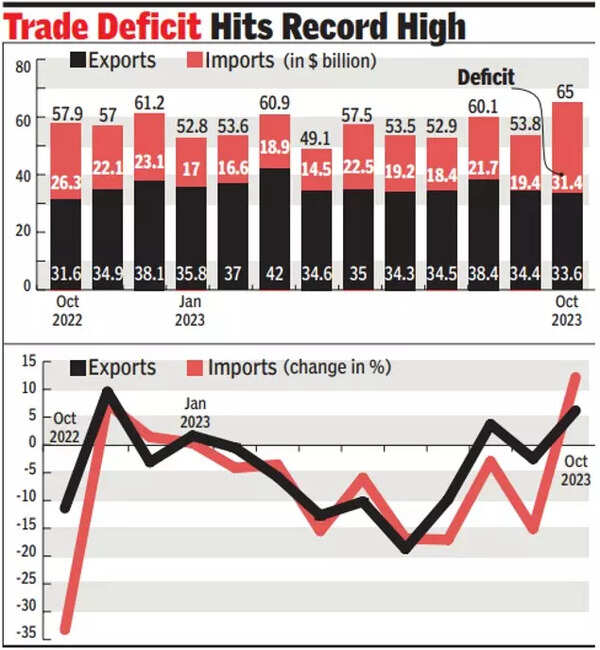 During the last financial year, India's goods exports were estimated at a record $451 billion, although there was sluggishness in the second half of the year — an aspect that is expected to help during the remainder of this fiscal year as the base effect kicks in. A higher trade deficit is, however, a worry for policymakers if the trend persists, as it will put pressure on the rupee in case the global economic environment deteriorates or geopolitical tensions escalate.
Although the rupee registered its best show in nearly two months on Wednesday to close at 83.14 against the greenback, on Friday, it had hit a lifetime low of 83.42.
"Given the shift in the festive calendar, we had expected the merchandise trade deficit to enlarge to $22.8 billion in October 2023. The higher-than-anticipated merchandise trade deficit was on account of gold, oil as well as balanced imports, with exports broadly in line with our forecast. Non-oil imports should moderate in November, as would exports, given a higher number of holidays. We foresee the trade deficit for the current month at $22-25 billion," said ICRA chief economist Aditi Nayar.
Gold imports are estimated to have nearly doubled to $7.2 billion in October, compared with $3.7 billion a year ago. Silver shipments soared over 125% to $1.8 billion in October