Sensex
set for pre-poll rally? In anticipation of India's upcoming general elections in 2024, both domestic and foreign fund managers are closely examining past trends to gauge the potential impact on the stock market in the next six months. Historical data analyzed by ET reveals that the Sensex, the benchmark index of the Indian stock market, has demonstrated resilience and prosperity during periods of political uncertainty and transitions.
Between 1980 and 2019, the six months leading up to the 11 general elections witnessed an impressive average return of 14.3% for the Sensex.Analysts highlight that the optimism surrounding the formation of a stable government has consistently translated into robustmarket performance over the past four decades.
Apurva Sheth, the head of market perspectives at SAMCO Securities says that considering the current market landscape and analyzing historical data, it appears that with the cooling trend of the 10-year US bond yields there may be another pre-election rally. The heightened political spending associated with elections also contributes to positive market sentiments.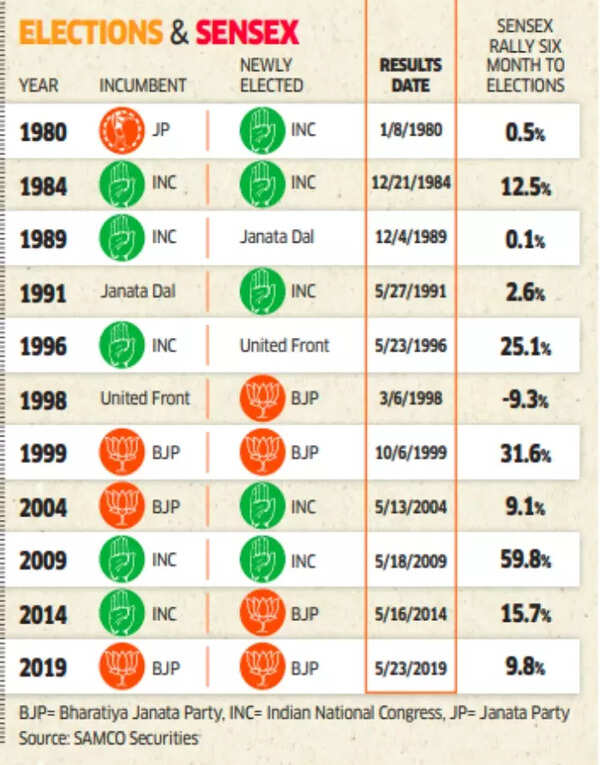 Elections & Sensex
In 2019, the Sensex experienced a rally of nearly 10% in the six months leading up to the elections, while in 2014, it recorded an even higher return of 16%. However, the 1998 election stood out as an exception when the Sensex dropped by 9.3% prior to the election. Conversely, in the six months preceding the 2009 election, the Sensex displayed an extraordinary rally of 59.8%.
Furthermore, the promise of a stable government has significantly impacted the market. In a recent update, CLSA, a leading brokerage and investment group, increased its allocation to Indian equities from a previous 40% underweight position to 20% overweight. They anticipate the continuation of the Modi government post the Indian general election, which is scheduled for April or May 2024.
As the Indian general election approaches, market experts and investors are closely monitoring these historical trends and the prevailing market conditions to make informed decisions.