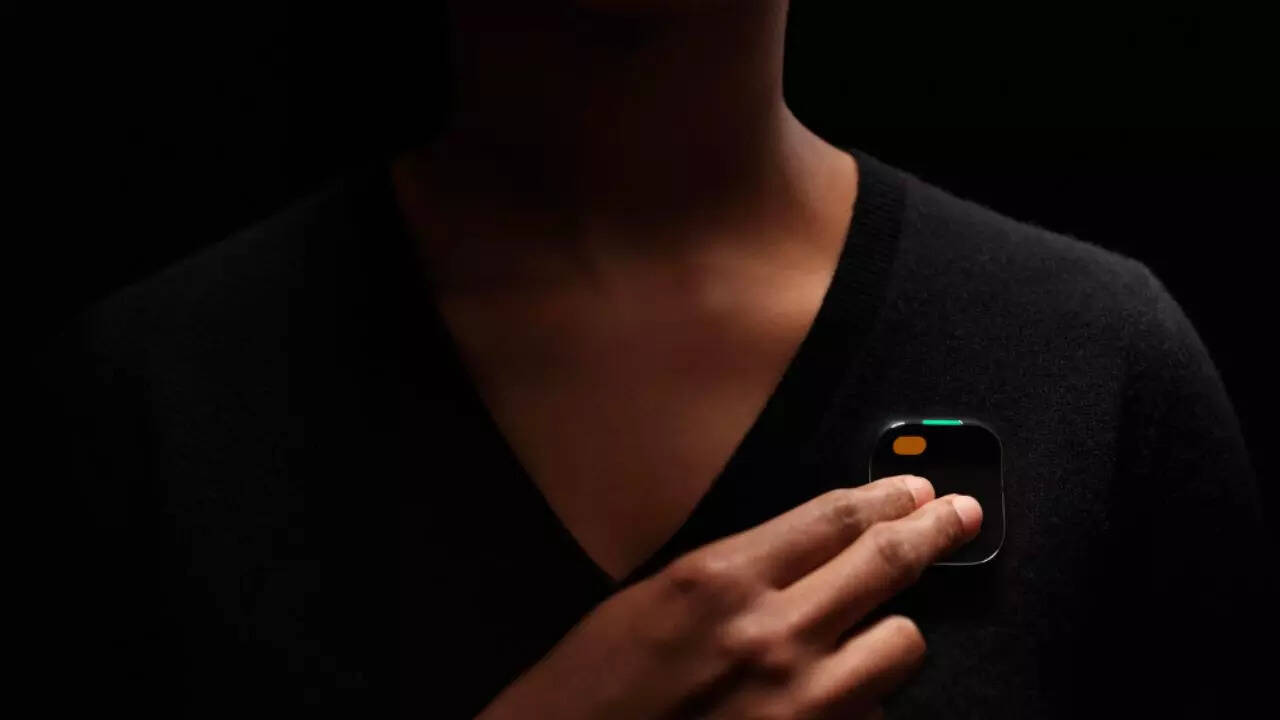 Inside a former horse stable in the San Francisco neighbourhood of SoMa, a wave of gentle chirps emerged from small, blinking devices pinned to the chests of employees at a startup called Humane.
It was just weeks before the startup's gadget, the Ai Pin, would be revealed to the world – a culmination of five years, $240 million in funding, 25 patents, a steady drumbeat of hype and partnerships with a list of top tech companies, including OpenAI, Microsoft and Salesforce.Their mission? No less than liberating the world from itssmartphone addiction. The solution? More technology.
Imran Chaudhri and Bethany Bongiorno, Humane's husband-and-wife founders, envision a future with less dependency on the screens that their former employer, Apple, made ubiquitous. Artificial intelligence "can create an experience that allows the computer to essentially take a back seat", Chaudhri said.
They're billing the pin as the first artificially intelligent device. It can be controlled by speaking aloud, tapping a touch pad or projecting a laser display onto the palm of a hand. In an instant, the device's virtual assistant can send a text message, play a song, snap a photo, make a call or translate a real-time conversation into another language. The system relies on AI to help answer questions ("What's the best way to load the dishwasher?") and can summarise incoming messages with the simple command: "Catch me up".
The technology is a step forward from Siri, Alexa and Google Assistant. It can follow a conversation from one question to the next, without needing explicit context. It's also capable of editing a single word in a dictated message, rather than requiring the user to correct an error by repeating the text from beginning to end, as other systems do. And it does it from a gadget that's reminiscent of the badges worn in Star Trek.
To tech insiders, it's a moonshot. To outsiders, it's a sci-fi fantasy.
At Humane, there's deep anxiety about the weeks ahead. The tech industry has a large graveyard of wearable products that have failed to catch on. Humane will begin shipping the pins next year. It expects to sell around 100,000 pins, which will cost $699 and require a $24 monthly subscription, in the first year. (Apple sold 381,000 iPods in the year after its 2001 launch.)
For the startup to succeed, people will need to learn a new operating system, called Cosmos, and be open to getting new phone numbers for the device. (The pin comes with its own wireless plan.) They'll need to dictate rather than type texts and trade a camera that zooms for wide-angle photos. They'll need to be patient because certain features, like object recognition and videos, won't be available initially. And the pin can sometimes be buggy, as it was during some of the company's demos.
Sam Altman, OpenAI's chief executive, said in an interview that he expected AI. to be "a huge part" of how we interact with computers. He has invested in Humane as well as another AI company, Rewind AI, that plans to make a necklace that will record what people say and hear. He's also discussed teaming up with Jony Ive, Apple's former chief designer, to create an A.I. gadget with a similar ambition to Humane.
Humane has the advantage of being the first of those AI-focused devices to become available, but Altman said in an interview that was no guarantee of success. "That will be up to customers to decide," he said. "Maybe it's a bridge too far," he said, "or maybe people are like, 'This is much better than my phone.'" Plenty of technology that looked like a sure bet ends up selling for 90% off at Best Buy, he added.