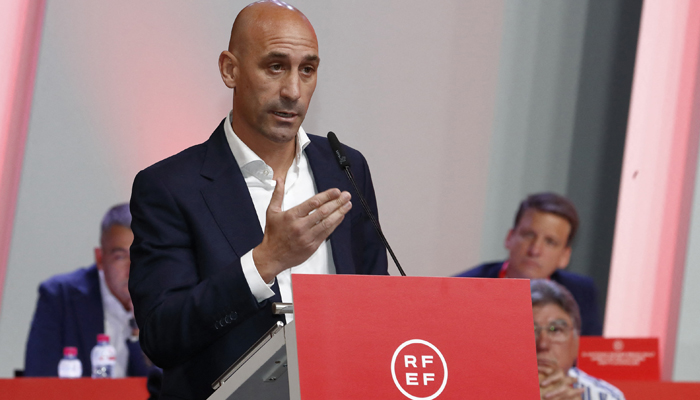 After an extraordinary meeting Monday by Royal Spanish Football Federation President (RFEF) regional presidents, the body urged President Luis Rubiales to resign from the top position as his "unacceptable behaviour" on the stage involving player Jennifer Hermoso damaged Madrid's football image.  
The RFEF said after concluding the meeting between the regional heads: "After recent events and the unacceptable behaviour that has seriously damaged the image of Spanish football, the presidents request that Luis Rubiales resign immediately as president of the RFEF."
Rubiales came under unprecedented pressure to resign, with days of criticism from figures including Spanish Prime Minister Pedro Sanchez, Spain's women's league and several men's La Liga clubs.
The misconduct surfaced last week Sunday when Spanish football chief Luis Rubiales kissed World Cup-winning midfielder Jennifer Hermoso on the lips after she received her gold medal following the team's Women's World Cup final victory over England.
The 46-year-old President was on stage along with other special guests for FIFA's awards ceremony following the final. 
Spanish Queen Letizia and Australian Prime Minister Anthony Albanese were among the other guests present on the stage.
When it announced Rubiales had been suspended Saturday, FIFA ordered him, the RFEF and its officials and employees not to attempt to contact Hermoso, whom the RFEF had threatened with legal action earlier that day.
The regional presidents said they backed interim chief Pedro Rocha, who called the meeting, to lead the organisation into "dialogue and reconciliation with all football institutions".
The RFEF statement also urged an overhaul in the federation's management.
"We will urge the relevant authorities to carry out a profound and imminent organisational restructuring in strategic positions of the federation in order to make way for a new stage in the management of Spanish football," it read.
The regional presidents also congratulated the women's team on their World Cup triumph in Australia and New Zealand. Presently 81 players, including Hermoso, are on strike, until the federation's leadership changes.
Earlier Monday prosecutors at Spain's top criminal court said they had opened a preliminary investigation into Rubiales' kiss on grounds it could constitute a crime of "sexual assault".
"Prosecutors from the National Court have opened a preliminary investigation to look into the facts, which could constitute an offence of sexual assault," a court statement said.
They would also contact Hermoso to offer her a chance to file a lawsuit within 15 days, the statement said.
Hermoso said in a statement last week that she felt like the "victim of assault" and that the kiss, during the medal ceremony after Spain won the Women's World Cup in Sydney on August 20, was not consensual — Rubiales had said it was.