NEW DELHI: Commerce and industry minister Piyush Goyal on Tuesday said Tesla will double the import of components from India, while it engages with the government to discuss a plan to manufacture and sell in the country.
"Extremely delighted to see talented Indian engineers & finance professionals working at senior positions and contributing to Tesla's remarkable journey to transform mobility.Also, proud to see the growing importance of auto component suppliers from India in the Tesla EV supply chain. It is on its way to double its components imports from India. Missed Mr @ElonMusk's magnetic presence and I wish him a speedy recovery," Goyal tweeted after visiting Tesla's manufacturing facility in Fremont.
It was speculated that Goyal will meet Musk during his visit to the US, following initial discussions on Tesla's plans for India. The businessman had also met PM Narendra Modi in the US earlier this year.
The company could raise its sourcing from India from around $1 billion last year, Goyal had said earlier. The government has been engaged with Tesla for a long time but the company's keenness to focus on India seems to have increased. In July, TOI was the first report about Tesla's discussion to manufacture a low-cost vehicle for the Indian and the export market, which may be priced around Rs 20 lakh.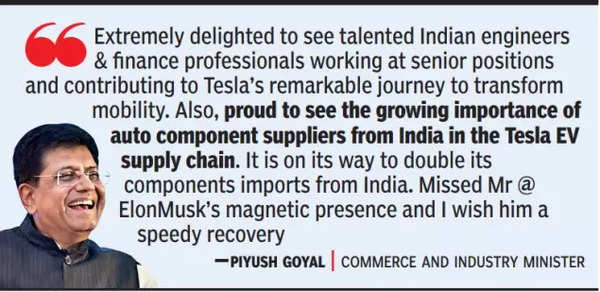 Last month, TOI had reported that the government was considering a plan to lower import duty on electric vehicles for a limited period, linked to domestic production by the likes of Tesla. Companies see this as a critical element of their plan to develop a base of suppliers and also test the market.
Goyal, who is in the US to attend a meeting of the Indo Pacific Economic Framework and Apec, also met investors, pitching India as an attractive investment destination.
"…highlighted how the country offers promising opportunities for investors, thanks to the unique combination of our demographic dividend, manufacturing capabilities & conducive business environment," Goyal tweeted.
The government is aggressively scouting for investors as companies are looking at a China Plus One strategy to reduce their dependence on a single source for their products. While Apple's contract manufacturers have seen a major shift to India, the government believes that others such as Tesla are potential investors.