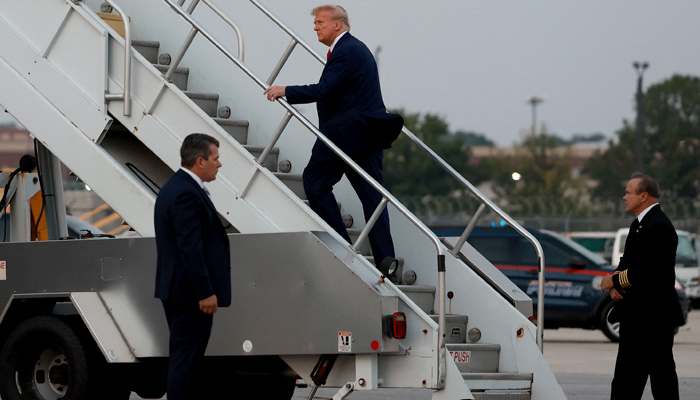 Former US president Donald Trump has been indicted for the fourth time by a court in Georgia in the case of 2020 election subversion, and criminal racketeering.
Trump has become the country's first-ever incumbent or former US president to be facing criminal charges as he was indicted three times earlier in a number of cases including paying hush money to an adult film star, the January 6 2020 Capitol riot case, and retaining highly classified documents in his estate after leaving the White House.
Donald Trump — who is the Republican presidential candidate in 2024 elections — is all set to face what can be described as an unprecedented 2024.
Find out about what former president Trump's agenda could look like, between elections, trials and a bid at being his party's standard-bearer in the race for the White House, according to an AFP report.
Election campaigns
The 77-year-old Trump, who occupied the Oval Office from 2017 to 2021, will kick off his hectic year in Iowa, the Midwestern state organising the Republican Party's first presidential nominating contests of the year on January 15.
The primary election cycle can run through June, meaning it has something of an outsized footprint in American politics.
The northeastern state of New Hampshire, which borders Canada, will organise its primary likely in late January, but the date has not yet been announced.
The billionaire, who was indicted four times in less than six months, is so far crushing his rivals in opinion polls, with about 53% of likely primary voters planning to cast ballots for him, according to poll aggregator RealClearPolitics.
His closest competitor, Florida Governor Ron DeSantis, stands at 13%.
Donald Trump's March trial
Can the Republican billionaire maintain his seemingly insurmountable lead once he is sitting in court as a criminal defendant?
A US federal judge on Monday set March 4, 2024, as the date for his election subversion conspiracy trial — a move immediately decried by Trump himself as "election interference."
That date is the eve of the so-called "Super Tuesday" — one of the biggest moments of the primaries when voters in more than a dozen states, including populous California and Texas, go to the polls.
Trump noted the timing, saying it was "just what our corrupt government wanted."
Then, just three weeks later, on March 25, Trump will have another court date — this time in New York, where he is facing charges over alleged hush money payments made to porn star Stormy Daniels.
Classified documents case in May
On May 20, 2024, all eyes will be on Florida, where the third case against the ex-president will open: over his alleged mishandling of classified documents after leaving office.
A fourth trial could even open in 2024: Donald Trump is also under indictment in Georgia, over an alleged conspiracy to overturn the results of the 2020 election he lost to Joe Biden.
The prosecutor in that case has asked for a 2024 trial.
Republican nomination in July
After more than a year of intense and likely acrimonious campaigning, the Republican Party will officially nominate its candidate for the November 2024 presidential election at its convention in Milwaukee in mid-July.
The event will mark the formal start of the final leg of campaigning, pitting the Republican candidate against Democratic incumbent President Joe Biden, who should formally earn his party´s nomination in August in Chicago.
Will Trump be able to cling to his strong advantage long enough to make it to the convention as the frontrunner?
Elections in 2024
Tens of millions of American voters will head to polling places on November 5, 2024, to choose the next person to occupy the White House.
Will the United States see a rematch of the 2020 election between Donald Trump and Joe Biden?
The country has never elected a president who was previously indicted for a crime. But Trump could once again upend American political tradition.